The Rover "Streetwise" (below) has just been launched by MG-Rover along with it's little cousin, the "Citycar" Both model ranges are already on sale.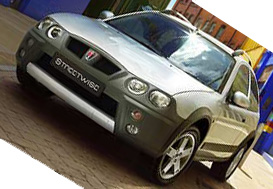 This new "Urban on-roader" based on the 25, it's a kind of spoof off-roader like the Renault Scenic RX4 and it looks great, It's a don't-mess-with-me-buddy kind of machine.
Using the 25's shell in much the same way they did with MG ZR and Express variants, not to mention the CDV, they've created another range and will capture a different market all over again, smart thinking from the British owned car manufacturer
This model boasts a raised suspension, larger wheels, roof bars, more aggressive bumpers, wheel arches and side rubbing strips which all contribute to the tough appearance.
Inside, the Streetwise cars have blue instrument graphics, four separate sports seats as standard a rear bench seat is however an option. Plenty of stowage spaces.
There are a number of engines in the range and thankfully a 1.8 K stepspeed will surface too.