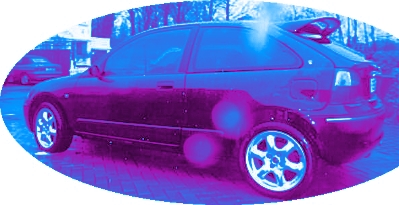 This is my car, a late 1999 [Vreg] Anthracite *Black, 216Si. Pictured here in the wet...
Modifications to the standard model I have carried out include: Tinted windows, 16" BRM alloys, removed passenger seat to make way for custom false floor. Extra interior lighting for those night time cruises, Body coloured mirrors and Phoenix roof wing (As now incorporated on the ZR).
Also a beefed up Sound System, Kenwood mainly (Low pass Amp / 12" Sub etc) but with Emerson and Royal Phillips components this vehicle can pump out music for hours.
Capable of playing mp3, cd, tape, AM/FM radio, with its on-wheel head unit control (As standard) the music keeps ears happy and backs massaged ;)
Click for more info and imagery...